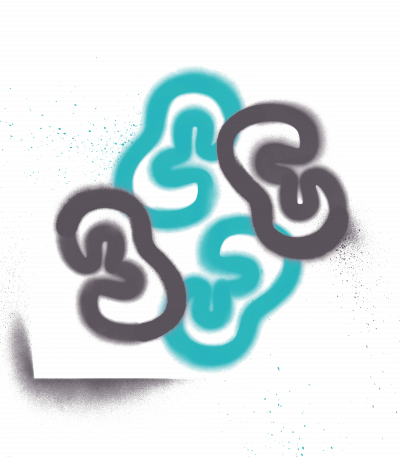 Episode 4
GO TO BLAZES
David Bolger / CoisCéim Dance Theatre
#dance
#experience
#performance
#virtual reality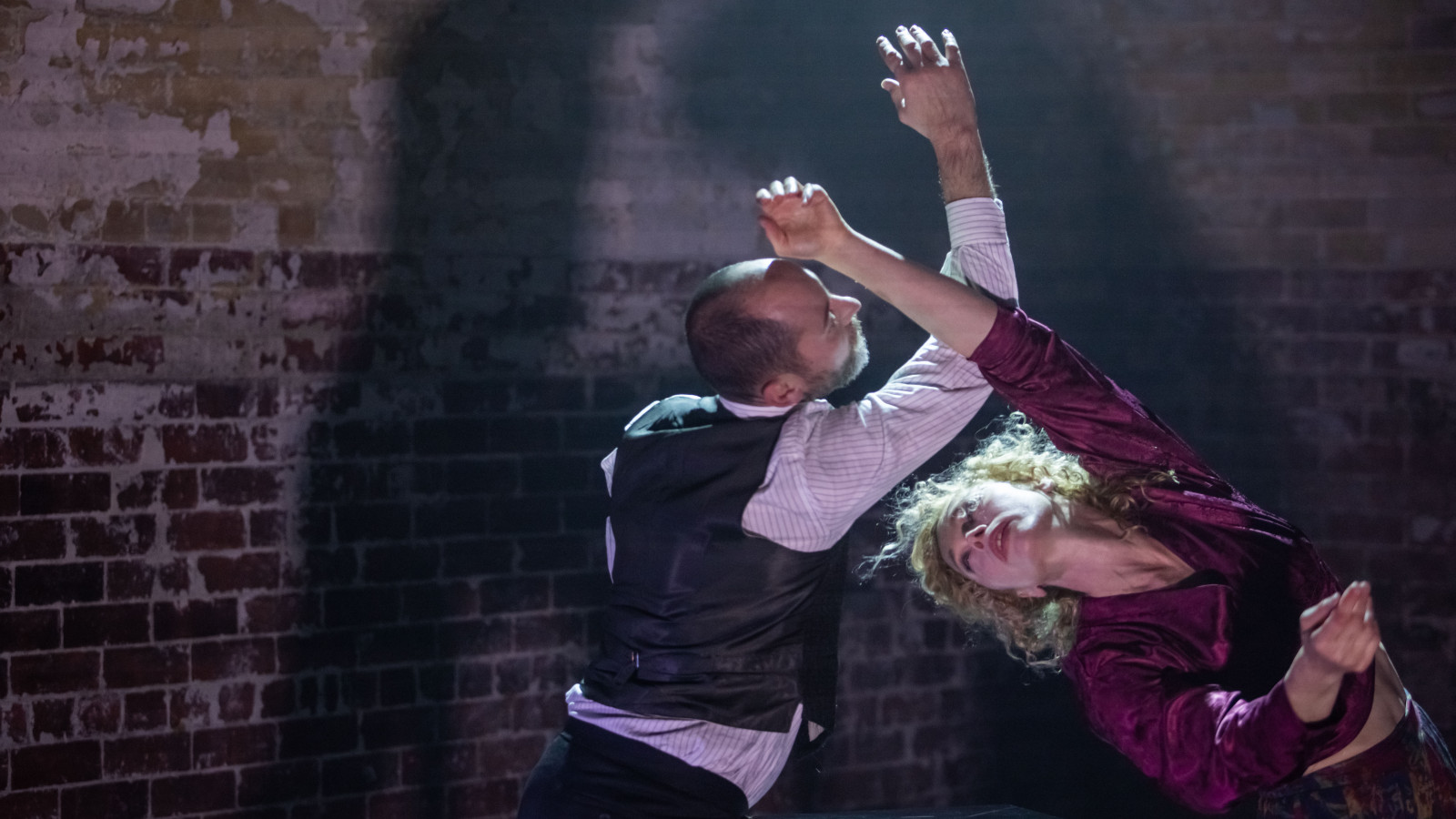 "It's a riveting, magical, overwhelming mixed media dance piece… it entrances the soul through sound, sight, and smell… Don't miss it." – Sunday Independent
"a beautifully judged 40-minute multisensory experience…" – The Irish Times 
"you don't walk away from the experience so much as float…Go To Blazes honours its inspiration by searching for new possibilities. Creating a work of staggering beauty. Not to be missed." – The Arts Review
"O, Rocks!"  In a meaty delicacy that ignites the senses, David Bolger's evocative response to Ulysses Episode 4 probes dual realities to create a highly original dance performance installation of unsettling, voluptuous beauty.  Each audience member will be taken on an intimate, deeply personal, multi-sensorial journey designed to linger long after they have left the landmark building of 42 Fairview Strand.
"In my response, I wanted to focus on the chapter right in front of me – not what happened before or right after – or what that might lead to in the odyssey of the journey of the day. 
Chapter 4: Calypso is the first time we meet Leopold Bloom and Molly Bloom – it intrigued me that the chapter opens with a description of what Leopold Bloom likes to eat for breakfast – kidneys.  It's  interesting to me as a choreographer – to start with a part of the body. 
I've been researching with Justine Cooper working primarily in dance – drilling down into core elements to build a series of scenes – e.g. about Molly and who she represents, of who Leopold is, or who he describes himself to be, his eating habits – or about the smells." – David Bolger
In the striking surroundings of CoisCéim's studio, people will witness a unique live and 180° virtual reality experience that features three extraordinary dancers, Justine Cooper, Jonathan Mitchell and Rosie Stebbing, an original composition by Denis Clohessy and a world-class creative team of Neil O'Driscoll (projections), Arran Murphy (costume), Matt Burke (lighting), Val Sherlock (hair & makeup), Enya Belak and Igor Crnković (VR capture creators).
This production is supported by Rediscover Fashion, a social enterprise at the Rediscovery Centre, Ireland's National Centre for the Circular Economy.
CoisCéim is proud to be funded by the Arts Council of Ireland and supported by Dublin City Council and Culture Ireland. Find out more at www.coisceim.com.
Duration: around 40 minutes
Capacity is limited to 21 people. May not be suitable for people who are highly photosensitive.
Tickets | €22 
Additional ticket pricing options are available, contact [email protected] for discount details.
---
GALLERY | IN REHEARSAL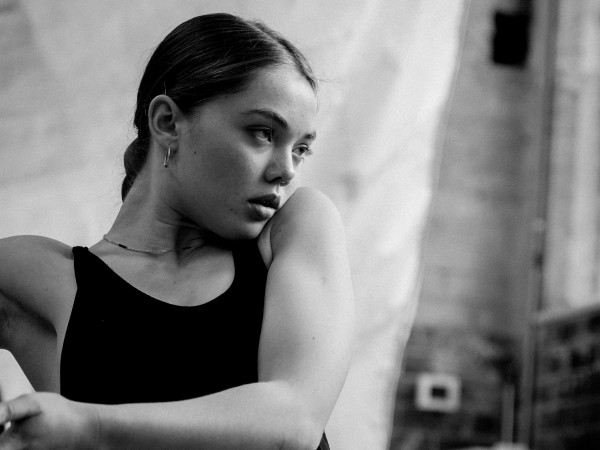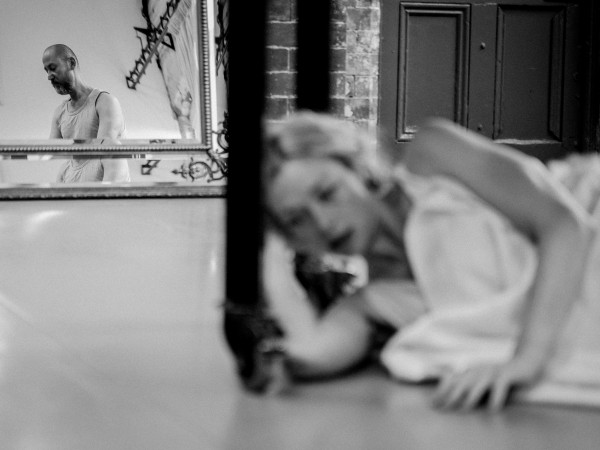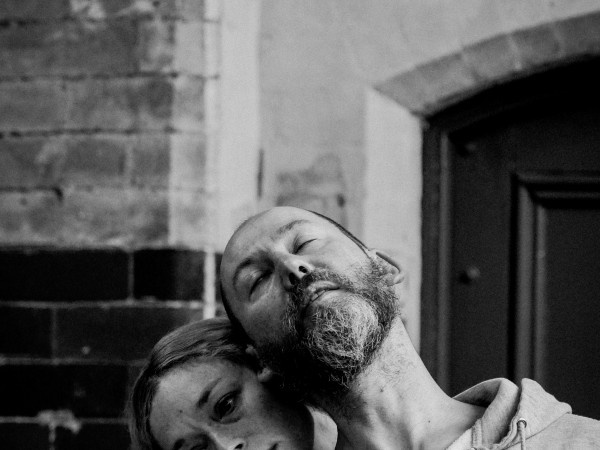 Images by Néstor Romero Clemente
---
CREDITS
CAST features | Justine Cooper, Jonathan Mitchell, Rosie Stebbing
Director & Choreographer | David Bolger
Composer & Sound Designer | Denis Clohessy
Projection Designer | Neil O'Driscoll
Lighting Designer | Matt Burke
Costume | Arran Murphy
Hair & Makeup | Val Sherlock
Scents | Justine Cooper
Props | Martin Cahill
VR Director | Enya Belak
VR Filming and Post-Production | Igor Crnković
Headline image: Sarah Latty
---
BIOGRAPHIES | CAST
JUSTINE COOPER
Originally from New Zealand, Justine has been based in Ireland as a freelance dance artist, teacher and choreographer since 2008. A regular lecturer at The University of Limerick in contemporary dance and choreography & most recently performing as a dance artist with Laura Murphy, Liz Roche Company, CoisCéim Dance Theatre, Justine Doswell, Mary Wycherly, Oona Doherty, United Fall, Maria Nilsson Waller, Anu Productions & Junk Ensemble. Justine was a company member of Meryl Tankard Australian Dance Theatre from 1998-2000. Her own work 'Folds of the Crane' was presented as part of Tiger Dublin Fringe Festival 2015 ( nominated for Spirit of the Fringe & Best Lighting & Design) also presented at Dublin Dance Festival 2016 and What's Next Festival 2018. 'The Misfits' by Corn Exchange (Nominated for Best Movement Direction, Irish Theatre Awards, 2018)
JONATHAN MITCHELL
Jonathan graduated from the Rambert School, London, in 1992. Since then he has been fortunate to work with a host of choreographers and companies, including Adventures in Motion Pictures, Mathew Hawkins, Liz Roche Company and IMDT, performing on four continents and in both hemispheres. Jonathan's association with CoisCeim began in 2001 with The Rite of Spring, and he has worked with the company many times since, including When Once Is Never Enough, Mermaids, Pageant, Agnes, The Wolf and Peter, These Rooms, Body Language/In The Magic Hour, Francis Footwork, and Orfeo ed Euridice for the Blackwater Valley Opera Festival.
ROSIE STEBBING
Rosie Stebbing is a contemporary dancer from Kildare. She made her CoisCéim debut in Orfeo ed Euridice for Blackwater Valley Opera Festival. Rosie trained at ArtEZ Institute of the Arts in the Netherlands from 2017 to 2021, during which time she worked with choreographers Roser Lopez Espinosa, Jasper van Luijk and Eldad Ben Sasson. In the final year of her studies, she joined Holstebro Dansekompagni (Denmark) as an apprentice for the season 2020/2021. Since graduating, Rosie has danced with Step Up Dance Program, co-ordinated by Dance Limerick, working with Lucyna Zwolinska and David Bolger on the creation and tour of two new works. In spring 2022, she joined the Irish Aerial Creation Centre's "Soar Up", a program which allowed her to spend two months training in aerial dance. She is currently working with Fidget Feet Aerial Dance Theatre on their upcoming production. Alongside her work as a performer, Rosie has created her own work in collaboration with dancer and maker Ornella Dufay-Miralles. Their duet "TEST 1" premiered at Dublin Fringe Festival in September 2022. 
BIOGRAPHIES | CREATIVE TEAM
DAVID BOLGER
David is the Artistic Director and co-founder of CoisCéim Dance Theatre. His work has been seen by millions of people worldwide and has received prestigious awards for its innovation, performance and choreography. David has directed and choreographed over 20 original productions for CoisCéim, including Francis Footwork, the highly lauded The Wolf and Peter, Body Language, and the major international co-production These Rooms (Irish Times Theatre Award, London International Festival of Theatre (LIFT), TATE Liverpool). His work for the company has been presented at Jacob's Pillow Dance Festival and Peak Performances in the USA, Spring Loaded (The Place) and the Brighton Festival in the UK, Ten Days on the Island (Tasmania), Arts Centre Melbourne and Sydney Opera House (Australia). David has received numerous choreographic commissions for theatre and opera including Druid (Ireland), Spoleto Festival (USA), Guthrie Theatre (USA), RTÉ (Ireland), National Theatre (UK), Abbey Theatre (Ireland) and Opera Ireland. He is a member of Aosdána. www.coisceim.com/about-us/

DENIS CLOHESSY
Denis has worked with numerous dance and theatre companies. He won the Irish Times theatre award for Best Design Sound in 2019 and 2010 and was a nominee in 2015. Work with CoisCéim includes CRISTIAN AND COSMO, OUR FATHERS and FRANCIS FOOTWORK. Denis was an associate artist with the Abbey in 2008 and was a participant on Rough Magic's ADVANCE programme in 2012. In 2016 Pat Kinevane's play SILENT (Fishamble) won an Olivier award for which Denis composed the music. His work in film includes music for the feature films OLDER THAN IRELAND (Snack box Films), THE IRISH PUB (Atom Films) and HIS AND HERS (Venom Film).

NEIL O'DRISCOLL
Neil O'Driscoll is a multidisciplinary artist whose work incorporates painting, illustration, film and video design for live performance. His work has appeared on stage at venues around Ireland including the Bell Table in Limerick and Dublin's Abbey Theatre, most recently in Edna O'Brien's Joyce's Women. In addition to freelance work, Neil sustains a practice as a visual artist and independent filmmaker.

MATT BURKE
Matt Burke is a lighting designer for theatre and dance. Recently he has designed for The Abbey Theatre (Bloody Sunday: Scenes from the Saville Inquiry, Peacock Stage), Mufutau Junior Yusuf's ÒWE (premiered at The Irish Arts Centre NYC), Róisín Whelan Dance Man Down, Ballet Ireland Glasshouse and Headonbody SOUP. He has worked extensively with The National Irish Language Theatre, An Taibhdhearc, at the Galway International Arts Festival from 2013 to 2018.
In 2019 he graduated with an MFA in Lighting design from The Lir, National Academy of Dramatic Art, Trinity College Dublin and in 2021 he was awarded the Arts Council Agility Award to support his research into lighting technologies and dynamic design.

ARRAN MURPHY
Arran Murphy is a Designer, Maker and Educator working in Sustainable Fashion, Costume and Community Arts. She has designed for numerous theatre, dance and street performances on an ongoing basis including the St Patrick's Day Parade, CoisCéim's Broadreach Programme, Dance Limerick's Step Up Programme, The Dockers and Demons Festival and Mario Rosenstock's Gift Grub Live Show, as well as for CoisCéim's Body Language and In The Magic Hour and Hope it Rains' Drowned Galway. Arran is also the Programme Manager of Rediscover Fashion, a social enterprise at the Rediscovery Centre, Ireland's National Centre for the Circular Economy.

VAL SHERLOCK
Val has worked as a hair and makeup artist as well as a wigmaker for a quarter of a century. As well as television, film and advertising work, Val has worked for all major theatre companies in Ireland and Northern Ireland. Val has had the pleasure of working across all aspects of theatre, opera, contemporary dance, and ballet. He has worked on multiple productions for the Lyric Theatre, Druid, Rough Magic Theatre Company, CoisCéim Dance Theatre, Fishamble: The New Play Company, the Abbey Theatre/Peacock Theatre, The Corn Exchange and Landmark Productions, amongst others.

MARTIN CAHILL
Martin has worked in theatre for many years, in many aspects. He has been a Set designer and Prop maker for twenty years. He has been Set Designer and Prop maker on numerous productions in Theatre and Film.

ENYA BELAK
Enya is a filmmaker, choreographer and artist. After completing her MA in Film Directing at Goldsmiths University in London, Enya participated in numerous film and dance projects. In recent years, she has been working with Aerowaves, a European network for contemporary dance, where she designed Springback Production, an audio-visual and digital platform. She is also involved in the development of the new branch of Springback Ringside, a platform dedicated to recording dance performances in VR.
---
HOW TO GET TO COISCÉIM STUDIO
BUS | to Fairview 123, 6, 14, 15, 27, 27A, 27B, 42, 43, 130, H1, H2, H3 (2-5 minute walk)
DART | Clontarf Road (15 Minute Walk), Connolly Station (20 minutes walk)

Events
Live Performance
9 November – 20 November 2022
42 Fairview Strand, Dublin 3
"O, Rocks!" In a meaty delicacy that ignites the senses, David Bolger's evocative response to Ulysses Episode 4 probes dual realities to create an experimental dance performance installation of unsettling, voluptuous beauty. Each audience member will be treated to a unique live and 180° virtual reality experience, designed to linger long after they have left the landmark building of 42 Fairview Strand.
Book Now
Key Dates
GO TO BLAZES at 42 Fairview Strand
9 - 20 November
Featured Artist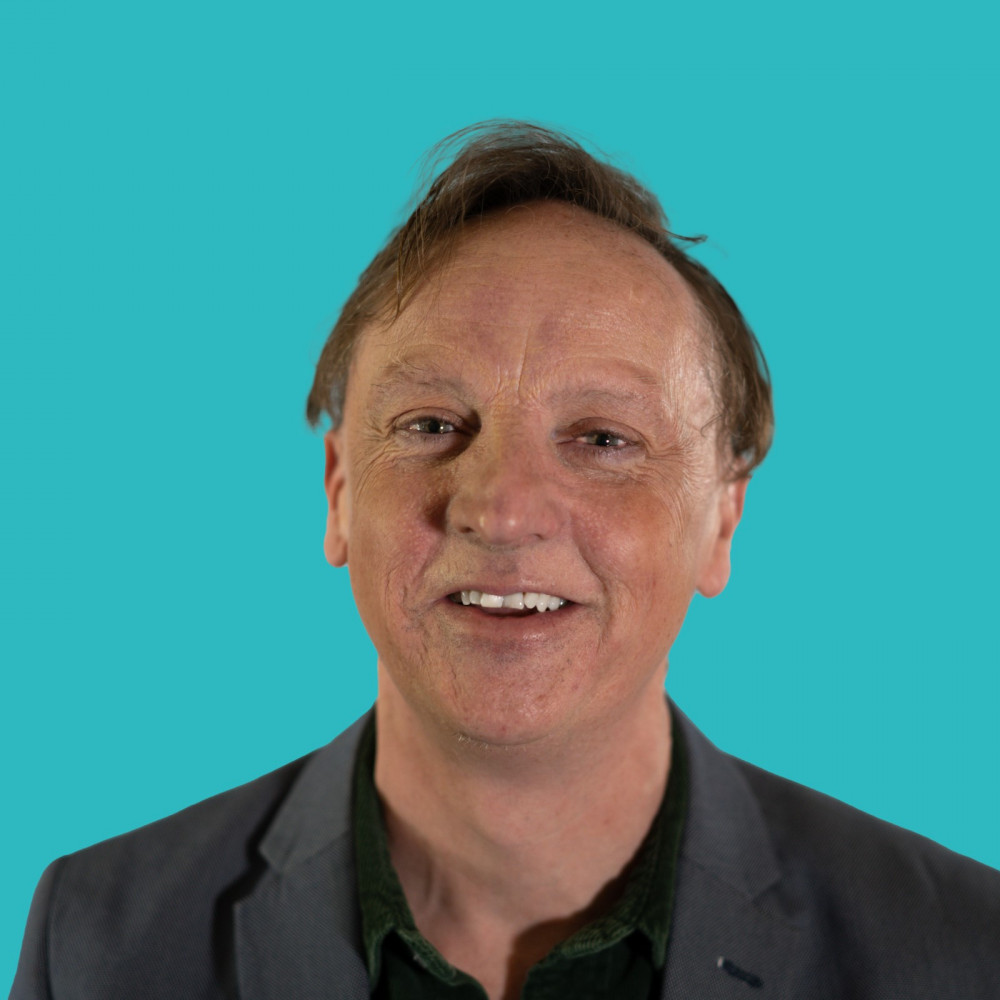 David Bolger / CoisCéim Dance Theatre